The Reinert Alumni Memorial Library will be merging with the Creighton University Health Sciences Library in the Reinert building until a new library is built to replace Reinert.  
The Health Sciences Library, which is in the Bio-Information Center next to the Boyne Building,  will close in May, following final exams, and the university currently intends not to reopen it. Staff areas and study spaces in Reinert will be reconfigured to make up for the loss of space. 
The Health Sciences Library is closing because the Bio-Information Center and Boyne Building will close after this semester, and the CL Werner Center for Health Sciences Education will replace them in the fall.  
"Regarding the plan for BIC [Bio-Information Center] and Boyne: The University is reviewing options with the buildings and doesn't have a specific plan yet," Associate Vice President for Facilities Management Derek Scott said in an email.  
Elizabeth Kiscaden, assistant vice provost for library services and university librarian, said that running the heating, cooling and plumbing in those buildings is expensive and that closing them and transitioning into Werner will save money.  
In 2019, a plan was formed to build a new library to house both Reinert and the Health Sciences Library, but this was delayed when donors provided funds to build Werner, although the university still intends to move forward with this plan eventually.  
"Initially the plan was to build this new building where the footprint of Gallagher Hall is, and we were going to intentionally create a space to merge both libraries and serve the diverse library users from both libraries," Kiscaden said. Currently, there is no timeline on the new library building. 
All of the library staff will stay on, and the Research and Instruction teams have already moved from the Health Sciences Library to the upper level of Reinert. The rest of the Health Sciences Library staff will move after that building closes.  
"We're going to be putting more work stations in, so we need to redesign our cubicles," Kiscaden said. "We're hoping this is an opportunity for us to freshen up some of these as well, because if you look around our cubicles are all castoffs from other departments, other projects. And so, we've got a real 'Frankenstein' experience."  
The proposal for these new cubicles and staff spaces will be presented to the Space Committee this month, and construction plans will follow.  
Public spaces in Reinert will also be altered to create additional study areas. According to data on the Creighton University Libraries webpage, in 2022 the Reinert Library had approximately 148,469 visitors and the Health Sciences Library had about 83,605; so, the Reinert Library will need to accommodate roughly 232,074 students. However, that same data shows that Reinert had about 316,770 visitors in 2018 and 271,776 in 2019 so the building has served this many people before. According to library data and Kiscaden, library usage vastly declined during the pandemic but has been increasing in the last year.  
Plans to provide more space include installing new compression shelving, condensing the collection of print materials, creating more seating for students and adding more group study rooms. Kiscaden said that the team working on this suggested moving as many group study rooms from the Health Sciences Library to Reinert as possible.  
The process of removing print journals and books has already begun. Creighton partnered with Online Computer Library Center (OCLC), a large library consortium, to analyze their collection. This data was used to make a list of legacy print, which Kiscaden described as materials seeing low use, to use as a guide for what to retain and what to remove.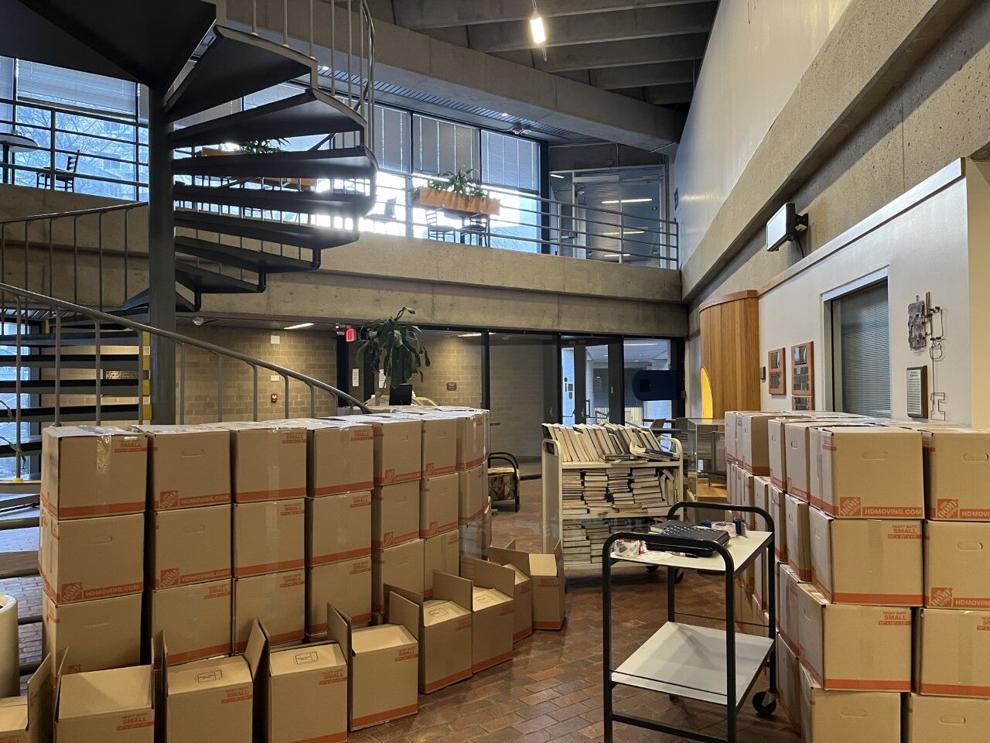 "Over at the Health Sciences Library, for example, we had a lot of print journals. We owned most of that content electronically, so a lot of our print journals over there were retired," Kiscaden said.  
Everything library officials decided to remove was content that had not been used in over 15 years and that professors agreed was not necessary for research purposes. They also compared the content to other university libraries.  
"We're a part of a network of Jesuit colleges and universities and they all have libraries as well," Kiscaden said. "We have resource-sharing agreements with them. So, if you wanted to borrow a book that we didn't own but one of our peer libraries did, they'll send it to us for free and you can use it for a set period of time, and then we'll send it back. So, we used their holdings to compare it with ours to make sure that we weren't getting rid of something that none of our peers held, because we wanted to be able to share that with them."  
It has already been decided what content will be removed and all of the journals that are being retired have been taken down. The process of removing the books is ongoing, but it is almost completed in the Health Sciences Library.  
Other ideas to maximize space include creating a makerspace and piloting a graduate student lounge. A makerspace would be a staffed area for students to use equipment such as sewing machines, 3D printers, laser cutters and other tools to create things and build prototypes. The graduate student lounge would require keycard access to a quiet study space. This is intended to help students who are losing their space because graduate and professional students use primarily the Health Sciences Library while undergraduates already frequent Reinert.  
Later this month, invitations will be sent to students to be part of focus groups for Reinert's public spaces. The goal is to present a formal proposal for student study spaces to Creighton administration this semester, so that plans can be executed over the summer in order to have the library ready for students in the fall semester.  
All archival material will be moved from the Health Sciences Library to Reinert, including an iron lung, which has been displayed in the library lobby. The iron lung was used to treat polio patients from 1943-1961 at the Saint Joseph Hospital, which was then Creighton's teaching hospital.  
 "We are building out a new archival storage space in our lower floor of the main library. That is where the iron lung will live," Kiscaden said. "That is what we intend at this point; we may decide that we want to put it on display like it is at the Health Sciences library."  
Before the Health Sciences Library closes, Creighton will host an event to honor its history. The building was designed by Leo Daly and constructed in 1977. It was awarded The American Institute of Architecture Central States Region Honor Award after it was built.  
"It's hard to tell in some of these old library buildings, because they've been renovated so many times that you lose the original structure," Kiscaden said. "You can't see the sight lines anymore and you look around and you think 'this is a weird and ugly building.' But, it's often due to changing needs and renovations that took place. Back in its day, it was a really cool space."  
The event for the building will showcase original design plans and renderings.  
The Creighton University Libraries Strategic Plan can be found on its webpage.
UPDATE from The Creightonian: 
The Creightonian incorrectly reported that the Health Sciences Library will be closing in May after finals. The Health Sciences Library will close in the fall of 2023 and merge with the Reinert Alumni Memorial Library. 
"We intend to staff the Health Sciences Library through August, even though the print collections will be coming over to Reinert Library in May," Elizabeth Kiscaden, assistant vice provost for library services and university librarian, said in an email on Tuesday.
Kiscaden also said that the event to commemorate the Health Sciences Library has not been finalized, but she is hoping to hold the event in August when students are back on campus and able to attend. Library staff will spend the summer moving models, artifacts and other equipemt from the Health Sciences Library to the Reinert Library.