Creighton denies student referendum, states it will not divest from fossil fuels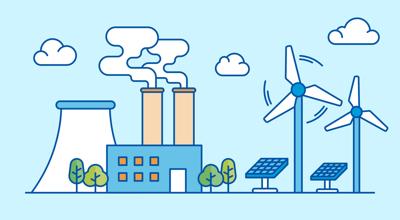 The Rev. Daniel Hendrickson, S.J., responded to the students' divestment referendum in an email on Wednesday, saying that the University will not implement a policy of total divestment from fossil fuel companies.
Creighton Students Union Referendum No. 19-02, which passed Tuesday with an 85.8% majority, called for full divestment and the freeze of any new investment in fossil fuel companies.
In his email, Hendrickson announced that this is not a reality for Creighton.
"There are compelling arguments on both sides of the divestment issue, as well as confusions, and we have decided at this time that implementing a policy of total divestment from fossil fuel companies as outlined in the recent nonbinding student referendum does not align with our goal of a properly diversified endowment, and could negatively impact Creighton and our students," Hendrickson wrote. "It is important that the University follows a disciplined investment approach in its endowment, with a broad diversification strategy designed to achieve long-term returns."
The president then provided three new actions the administration will, however, be taking to address the students' concerns about climate change, including a campus forum, a new work group of faculty, staff and students, and the creation of a new institute.
The campus forum, titled "Seeking Hope: Intentional and Ignatian Responses to the Global Climate Crisis," will be held on Tuesday, Jan. 28, 2020 at 7 p.m. The venue is undecided.
The open forum will delve into climate change, with a "diverse slate of faculty."
"[The forum] will offer an interdisciplinary exploration of how individuals at Creighton, and Creighton as an institution, can keep responding to the climate crisis, recognizing that each of us, independently and collectively, bears responsibility for action," Hendrickson wrote.
He also announced that he has requested for the formation of a work group, chaired by René Padilla, vice provost for Global Engagement, to "more routinely and intentionally address a range of sustainability topics, from reviewing investment guidelines and carbon neutrality goals to assessing our use of plastics on campus and our individual and institutional carbon footprints."
Lastly, Hendrickson created the Common Home Project, a new institute to "provide innovative and interdisciplinary programming for our campus community, doing so in this case around a vision to jointly shape the future of our planet."
"Embracing, in many situations, other Jesuit institutions around the world, the Common Home Project will develop key partnership hubs in each continent, with which Creighton faculty, staff, and students will work to engage the United Nations' 17 Sustainable Development Goals through internships, curricular offerings, collaborative research, and other scholarly endeavors," he wrote.
In addition, he added in the email that Creighton has been "steadily reducing our carbon footprint on campus through a variety of initiatives."
He cited Facilities Management's Optimized Systems, energy conservation initiatives, the development of an energy master plan and investment in more energy-efficient systems for resources such as heating and air conditioning.
"I commend our students and am very grateful for their concern, commitment, and passion in seeking solutions to the serious environmental challenges we face today," Hendrickson said. "As a University community, we share a common set of goals regarding the future of our planet."
Donna Shahbazi, president of CSU and one of the sponsors of the referendum, said that the 10 months of research done by all parties involved in drafting the referendum proves otherwise in defining a "diversified endowment."
"We seek clarification and look forward to an explanation that cites why total divestment does not align with a properly diversified endowment," Shahbazi said. "At this time, the knowledge we have is what was presented in Referendum No. 19-02."
She mentioned Creighton's Catholic identity as something she said only further backs divestment, "as Pope Francis calls us to actions of the kind."
Moreover, she compared Creighton to other schools.
"We see other institutions of higher education, divesting for only financial reasons — the entire University of California system for example," Shahbazi said.
"Over the time of this movement, there has been a limited conversation from the opposing side on why divestment doesn't align," she added. "The student body is more than open to conversations on what's best for the university."
Shahbazi said that she is excited for the additional actions the administration is taking, and that she is currently already signed up for the work group as the sole student thus far.
"The University's response appears to be on par with past responses and we hope that specific information and an actionable plan are generated from [the forum, work group and institute]," she said.
She concluded that CSU has expressed all concern and argument in the referendum itself, but said she thanks Hendrickson "for being the liaison between the Board of Trustees and the student body."
Braden Oldham, a senior in the College of Arts and Sciences and president of CCAS, said the authors of the referendum should be proud of the result and that explanations need to be addressed.
"It needs to be clarified what the authors and over 2,000 student who voted for the referendum, what they asked," Oldham said. "They asked for roughly 2% of the total 10.6% of the endowment invested in fossil fuel companies, to be divested. Two percent does not equal a total divestment of fossil fuels."
He went on to say, "Students are way smarter than to ask for total divestment. Purposefully or mistakenly saying that [students] asked for total divestment decreases the credibility of the legislation and the activism of the students who were educated on the matter."
Oldham said that this does not conclude students' activism on the issue of climate change, along with any other issues.
"No, this is just added fuel for students to 'go set the world on fire,' for the greater glory of God, and for the protection of His creation," Oldham said.